Introduction to Japanese (Related to Cooperative Research Agreement between the Cabinet Office, Nagaoka City and CREI)
Nagaoka Innovation District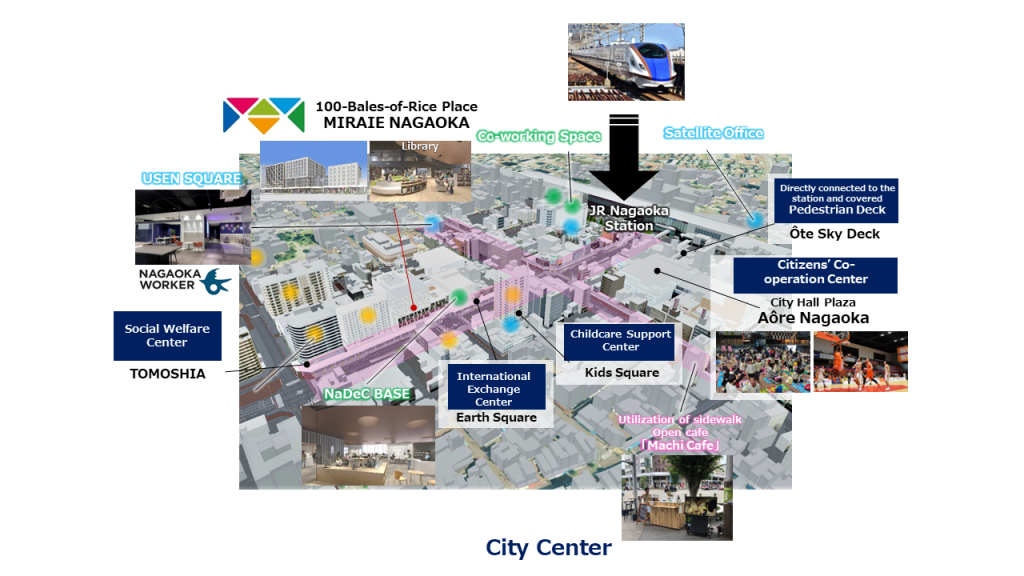 On March 30, 2022, a collaborative research agreement (CRA) was signed between Nagaoka City in Niigata Prefecture, the Center for Real Estate Innovation Research (CREI) of the Cooperative Research Organization of the University of Tokyo and the Secretariat for Promotion of Regional Revitalization of the Cabinet Office to promote research on development for enhancing innovation generation functions and to provide academic advice to Nagaoka City and stakeholders.(Reference:Announcement of conclusion of the Agreement [Japanese])
 Nagaoka City has identified target parcels as innovation districts in the Nagaoka City Center Revitalization Master Plan, and is promoting specific initiatives to enhance the innovation generation functions. Nagaoka City has four universities and one technical college as so-called "anchor institutions" that are said to play an important role as catalysts for innovation, so has high potential to develop as an innovation district. In addition, located between the Tokyo metropolitan area and Niigata City, the city has relatively easy access from Tokyo (approximately 100 minutes by Joetsu Shinkansen), and its unique characteristics in climate, topograohy, special products and tourist resources has certain advantages in increasing and maintaining the number of people interacting in Nagaoka City. Although four universities, one technical college, industries, businesses, government agencies and other elements considered important for innovation are not located in close proximity, Nagaoka City is in the process of developing a social hub in the area near the Shinkansen station as part of its new central city development plan (innovation district development) (Please see below lists). Open innovation hubs and other offices, stores, restaurants, public facilities, residences and walkable facilities will be efficiently concentrated in the central city area, which will play the role of a melting pot, promoting the exchange of innovation seeds held by universities and other institutions with a diverse range of innovative human resources from within and outside the region, thereby accelerating local-type innovation.
 CREI will observe, research and study the process with the aim that the results will lead to knowledge and insights that can be used as a reference for similar efforts in other parts of Japan.
 The district also participates in 'the Global Network' by GIID as the 'Nagaoka Innovation District'. (Joined 24 April 2023).
Link List related to Nagaoka Innovation District